Add your review
Review TRI Spikes (Silver) - Outlet Store
TRI Spikes (Silver) - Outlet Store
Product Outlet, product packaging has been open!
The item will be delivered including the packaging.
Same day Dispatched: If ordered before 17:00 on working days!
Fast shipping

Same day Dispatched: If ordered before 17:00 on working days!

14 days to change your mind

We are only satisfied when you are.

Contact us via the mail

And your question will be answered as soon as possible!

Affiliated with 2 quality marks

Safe and trustworthy!
TRI SPIKES SLIVER
Individual. Exclusive. Unique.
VIABLUE™ TRI Spikes bundle and discharge disturbing vibrations through three peaks. Thus, they prevent a transmission of vibrations to the underlying surface. The uniquely designed spikes provide you with a vivid, clean and detailed sound. A perfect addition for large-scale speakers and devices like record players or tube amplifiers.
Compact brilliance
200 kg per set maximum load
Ø 34 mm for the protection of underlying surfaces
Ø 1 mm height adjustment
2 coated metal bodies and 3 screwed in premium stainless steel peaks
Disc with premium stainless steel inlay
Simply smart height adjustment up to 1 mm
VIABLUE™ height adjustment directly on the TRI spike's bodies
Smooth adjustment due to 30 mm fine thread
Maximum stability due to a big size thread diameter
Comfortable placement and assembly
TRI spikes can be placed underneath your speaker or device without further screw fixings.
Position underneath speakers or devices
Screw to speakers and devices with existing threads
Screw connections to speakers or devices without existing threads: Optionally available thread sticks, diameter decreasers, threaded inserts and nuts
Original VIABLUE™ high quality spikes accessories available for all options
TRI spikes set includes
4 TRI spikes incl. premium stainless steel peaks
4 TRI discs with premium stainless steel inlay, Ø 34 mm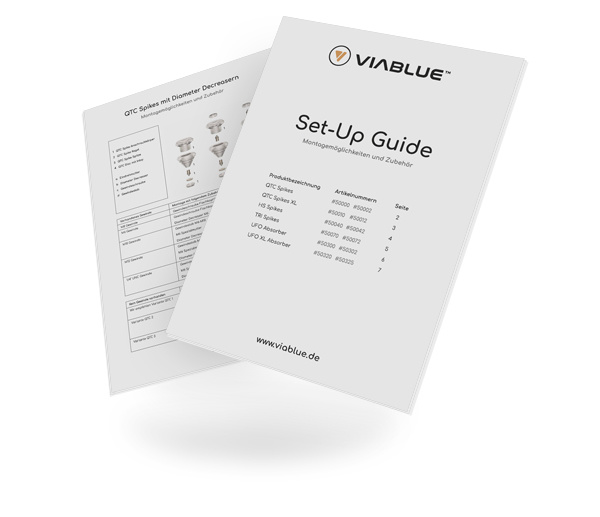 TECHNICAL SPECIFICATIONS
Item weight 420 g
Weight including packaging 510 g
Height adjustment / total height 19.2 – 20.2 mm
Maximum Ø 35 mm
Available colors: black, silver
0 stars based on 0 reviews